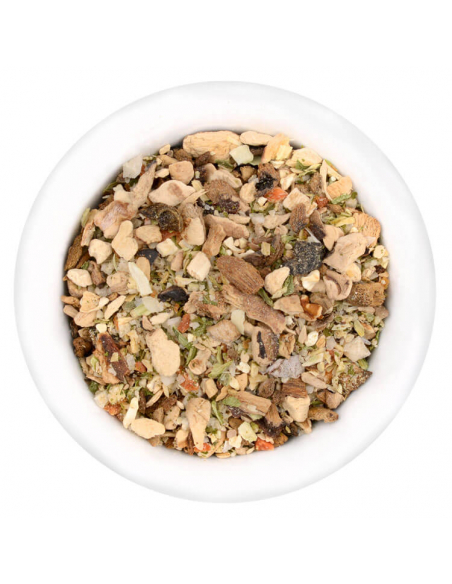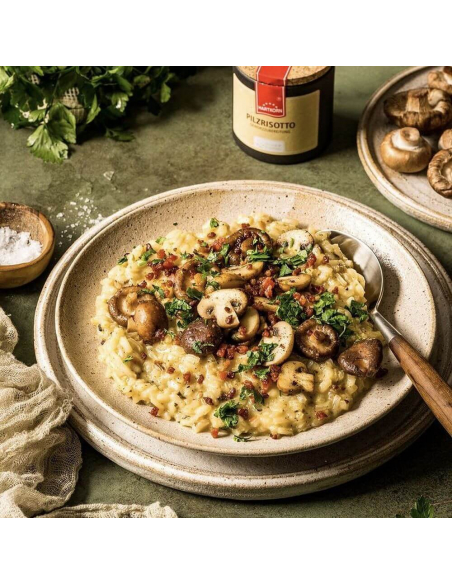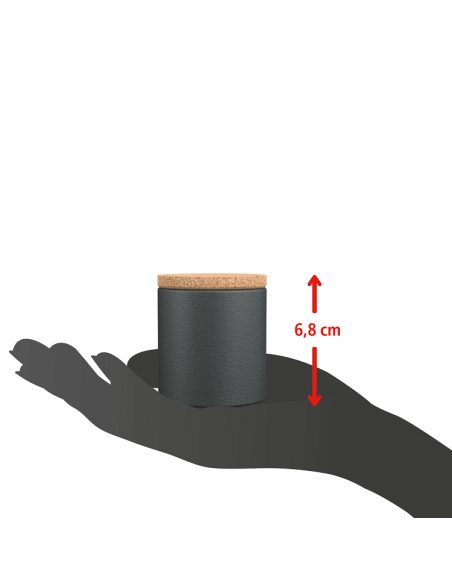 Young Kitchen mushroom risotto
Mushroom risotto without mushrooms? Of course, that makes little sense. That's exactly why we have packed a colorful mixture of different mushrooms such as butter mushroom, mushroom, shiitake or porcini mushroom into our spice preparation. Onion, leek, carrot, celery, pepper, parsley, garlic and last but not least the fine Fleur de Sel provide the right seasoning in a harmonious interplay.
You've never made a delicious mushroom risotto before? No problem, we'll be happy to deliver the recipe to you free of charge: First, heat 1 tablespoon of butter in a pot and sauté 125 g of risotto rice in it. Then grab a bottle of white wine - not to drink, but to deglaze. Whereby... since you only need 100 ml for the risotto, you can relax and enjoy a glass. Meanwhile, the rice cooks down. Add 2 tablespoons of the mushroom risotto seasoning to 500 ml of hot water and stir it gradually. Take enough time for this, about 25 - 30 minutes. Yes, for a good risotto you need love and also a little patience. Then add the mixture to the risotto, stirring frequently. Finally, there is only one thing left to do: grate 40 g of Parmesan on top and add 1 tablespoon of butter to the risotto.

Not all rice is the same! You want to cook a delicious risotto - then choosing the right type of rice is definitely one of the first steps. Simply throwing the classic long-grain rice into the pot is not an option, of course. At least you won't get a risotto out of it. It's different with special risotto rice. This is because it contains more starch, which is precisely what gives it its special consistency when cooked, as some of the starch is released from the grain. In this context, the desired creamy and "sloppy" consistency is often mentioned.
Ingredients*

Fleur de Sel
Gewürze (Mischpilze (Butterpilz, Champignon, Shiitake, Steinpilz in veränderlichen Anteilen), Zwiebel, Porree, Karotte, Sellerie, Pfeffer, Petersilie, Knoblauch)

Type

Cork lid box

Filling Weight

30g

Hints

* Kann Spuren von glutenhaltigem Getreide und Senf enthalten. Für weitere Informationen gemäß LMIV, etc. kontaktieren Sie uns bitte unter endverbraucher@hartkorn-gewuerze.de

Spice Category

Spice Preparation
Nutritional values per 100 g


| | |
| --- | --- |
| Energy | 805 KJ / 193 kcal |
| Fat | 1,9 g |
| - thereof saturated fatty acids | 0,4 g |
| Carbohydrates | 21 g |
| - thereof sugar | 12 g |
| Protein | 16 g |
| Salt | 30,6 g |
Customers who bought this product also bought: