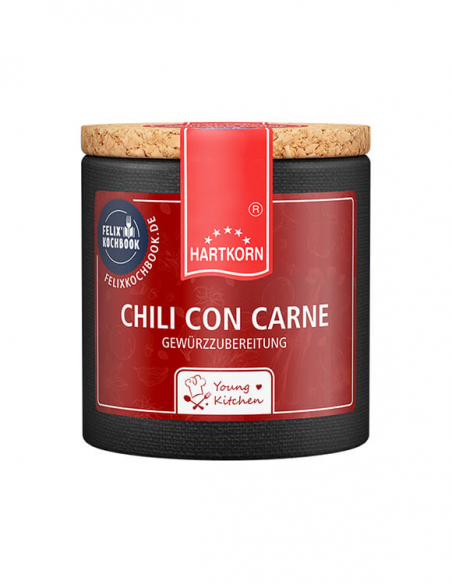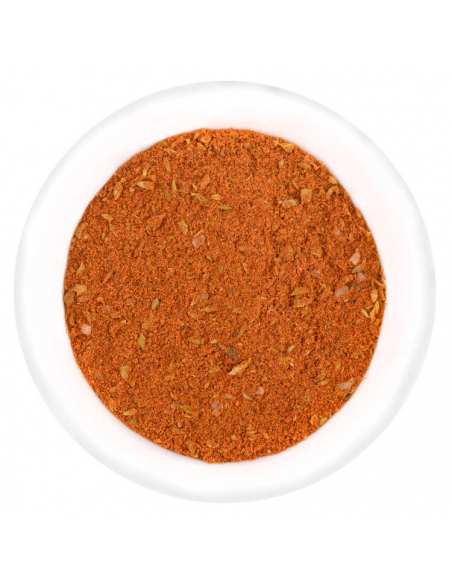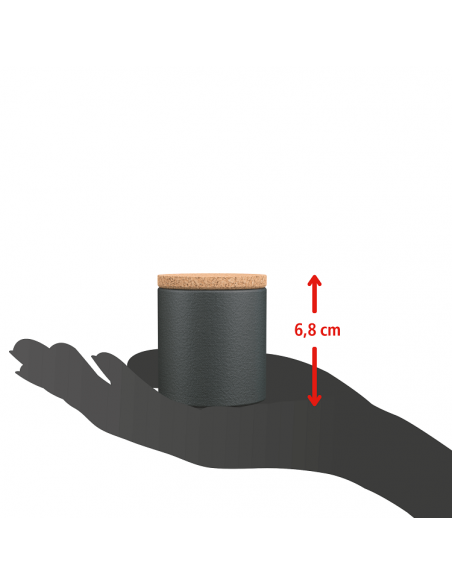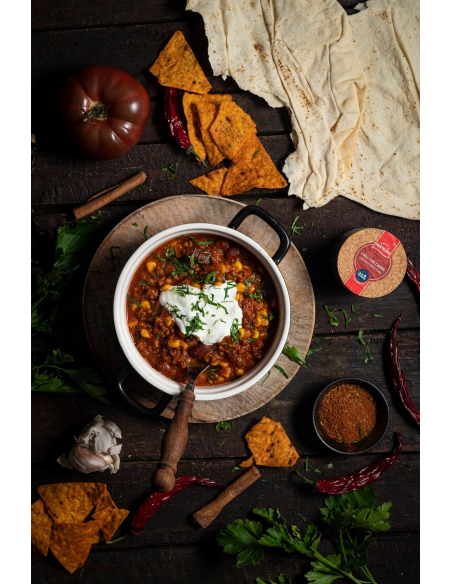 Young Kitchen Chili Con Carne Gewürz
Boom! Here is something very special waiting for you! The perfectly coordinated composition of chili, cumin, sweet paprika, oregano, cinnamon cassia, allspice, cocoa, garlic, smoked paprika and sea salt provides the necessary tinder in our spice preparation for the eponymous party classic chili con carne. By the way, we developed this recipe with Felix Schäferhoff from Felix' Kochbook.
Want to make the best chili con carne you've ever tasted? Well then, watch out, because together with Felix's cookbook, we'll tell you how to make it: First, fry 250 g of ground beef. Then dice 1 onion and 1 red bell pepper. They also go into the pan. Add 1 tablespoon of tomato paste and roast everything together. For the perfect seasoning, add 2 - 3 tsp of the chili con carne mixture. Now add 200 g chunky tomatoes and 125 ml vegetable stock and simmer for at least 30 - 40 minutes. Just before the end of the cooking time, grab 1 small can of kidney beans and corn. After you have rinsed the vegetables well with water, add them to the chili. If you like it a little spicier or with more seasoning, you can add more at this point. The best way to serve the chili con carne is with rice or a baguette.

The right mixture makes it: Chili con carne is a true classic of Tex-Mex cuisine. But what is actually behind this category? Basically, the label Tex-Mex means nothing more than the cuisine or cooking style that combines individual elements of Mexican cuisine with those of U.S. cuisine, bringing to life a distinctive culinary style. The influences of Southern and Southwestern cuisine in particular are unmistakable here. So much for the theory. But if you need a few more clues as to what other dishes are part of Tex-Mex cuisine, here you go: burritos, enchiladas, tacos, fajitas, quesadillas, and so on.
Ingredients*

Gewürze (Chili, Kreuzkümmel, Paprika edelsüß, Oregano, Zimt Cassia, Piment, Kakao, Knoblauch, Paprika geräuchert)

Type

Cork lid box

Filling Weight

45g

Hints

*May contain traces of cereals containing gluten, mustard and celery For further Informations on Ingredients, Mandatory information according to LMIV, etc

Spices A to Z

C

Spice Category

Spice Preparation
Customers who bought this product also bought: