Hello you party-raving cocktail slurpers! We would like to introduce you to an incredibly delicious cocktail / long drink. Not only for New Year's Eve, but for every occasion an absolute pleasure! The recipe comes from our good friend Lars. Lars and his warriors have a long experience at the cocktail bar, and on the other hand they have a pretty tasty gin of their own creation: Eck Koblenz Dry Gin!
Eck Gin is a real Koblenz original! With a focus on juniper and regional Koblenz orchards, the stuff not only tastes incredibly delicious, but also serves our beautiful home Koblenz with its distinctive look. What other drink has a bottle that looks like our German corner on the Rhine and Moselle? Kaiser Wilhelm would have drunk it!
But your mouth is already running water, so here is the recipe:
5cl corner gin
3cl lemon juice
2cl apple ginger chili syrup (homemade, see below!)
Pour everything onto ginger beer
The whole thing on ice and stir gently.
You make the apple ginger chili syrup with the following ingredients:
500ml apple juice
30g ginger
Chilli as desired
400ml sugar
Half of the apple juice is boiled down, then add the rest and let it simmer a little. That should make about 750ml.
To make it look nice, you can use a citrus slice and decorate with a caramelized apple slice. Delicious!
If you now feel like it, we have a hot tip for you: More information about Eck Gin and you can order it online here: ecEk-gin.de Be sure to follow it on Instagram: @ eck.gin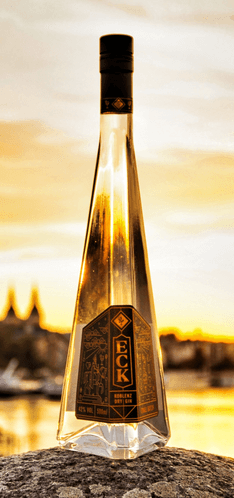 Unser Shopping-Tipp: